In Yerevan, the capital of Armenia, all polyclinics are now providing free, anonymous, and fast testing for HIV, Syphilis, Hepatitis B and C as part of the "Do not guess, get tested" campaign launched by the Ministry of Health and the Yerevan Municipality on World Hepatitis Day.
"It is an important signal to the population that we keep providing all necessary HIV services to people and that the COVID-19 pandemic has not stopped our prevention and testing work," said Alexander Bazarchyan, Director of the National Institute of Health.
In preparation for this initiative, the Ministry of Health together with the National Institute of Health and the Municipality of Yerevan, conducted training sessions for medical staff in 20 polyclinics in Yerevan. More than 300 health workers—family doctors, infectious disease specialists, general practitioners, laboratory specialists, etc—received theoretical and practical information on "Management skills of Tuberculosis, Hepatitis B and C" and "HIV testing and counselling services in primary healthcare facilities".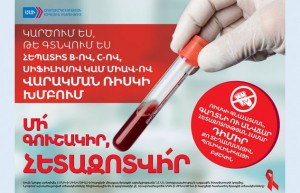 The activities continued during the COVID-19 epidemic through an educational website developed with support from UNAIDS. The site is a platform where specialists can post accredited online courses so that health professionals can continue their education for free.
In addition, rapid tests for HIV, Syphilis, Hepatitis B and C were purchased within the framework of the UNAIDS Regional Cooperation Programme (RCP) for Technical Assistance on HIV and other Infectious Diseases funded by the Government of the Russian Federation. The RCP aims to strengthen health systems, ensure better epidemiological surveillance of HIV, and promote the scale up of HIV prevention programmes among key populations at higher risk in Armenia, Belarus, Kyrgyzstan, Tajikistan, and Uzbekistan.
"We welcome such timely support as this initiative can facilitate access to testing for people through primary healthcare services and make another step towards achieving Armenia's commitments to increase access to early diagnosis and treatment," said Roza Babayan, UNAIDS Representative in Armenia.