The Stop TB Partnership today launched its World TB Day website which has the full spectrum of downloadable communications materials. World TB Day is organized each year on 24 March and aims to build awareness on TB. It is an opportunity for people everywhere to join the fight against TB, sharing information about TB and urging governments to take action. In 2017, World TB Day, under the overarching theme of 'Unite to End TB', is an important milestone on the road to the Global Ministerial Conference on TB in Moscow in November 2017, the UN High Level Meeting on TB in 2018 and looking further towards ending TB.
In an attempt to educate the general public in order to close the knowledge and awareness gap, the Stop TB Partnership this year will focus its efforts on communicating important but often misunderstood facts about TB which prevent people from seeking treatment or act as a barrier to efforts in reducing stigmatization of people infected and affected by the disease. Understanding such drivers of myths and misconceptions is important for improving information, education and communication efforts.
We are happy to share with you that the Stop TB Partnership's World TB Day website has the full suite of communications products (in all six official UN languages) available for partners to download, to adapt and use for media outreach: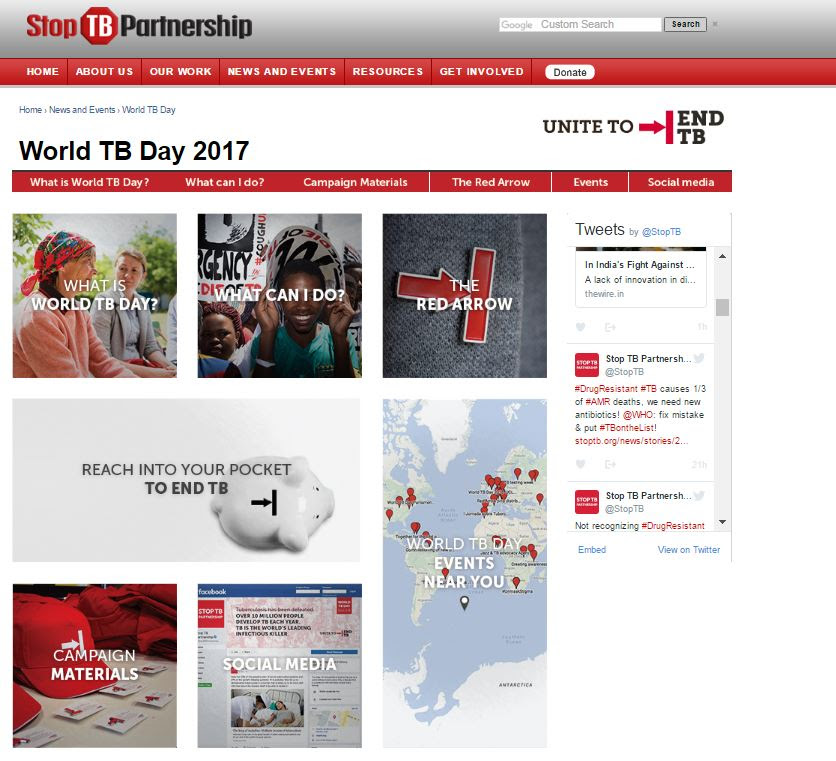 Call to Action Logo
World TB Day logo
Eight posters featuring the campaign messaging on 'Demystifying TB'
Downloadable Call to Action E-Postcards
Specific 'Call to Action' social media messages for 14 high burden TB countries — available for users to tweet to their respective Ministries of Health
Social media web banners for Facebook and Twitter
Social Media Communications Messaging Plan using #UnitetoEndTB and #WTBD2017
A Twibbon Campaign featuring the Red Arrow
Community Toolkit
Generic T-shirts and caps to download for local printing
World TB Day 2017 Global Events map
What we hope you can do:
Tell your political leaders to step up for TB: Every 18 seconds, someone dies of TB. Call upon your Head of State, Head of Government, Minister of Health or Parliamentarians to step up their actions against TB and ensure that everyone affected by TB gets the right diagnosis, treatment and care.
Social media tiles and e-cards:
— Users are encouraged to Tweet or share over social media these e-postcards to Heads of State, Governments and Ministers of Health.
— The message reads 'Reach out to your Head of State or Minister of Health to Step Up for TB and prioritize TB as an intervention' along with space for the user to customize his/ her message.
World TB Day 2017 Global Events Map: Please add your local events happening throughout the month of March in order for us to give a comprehensive outlook on global events happening on World TB Day this year. Don't forget that we will award the 2017 World TB Day prize later this year. The prize is awarded each year to a deserving partner, and it will be given out at 48th Union World Conference on Lung Health, held in Guadalajara, Mexico in October.
Reach out to officials in the cities that you live and/or work in and ask if they can support the illumination of landmarks in these cities in red on 24 March 2017 as part of the 'Light Up the World for TB' initiative that the Stop TB Partnership is leading on. From the Stop TB Partnership Secretariat, we have managed to secure landmark water fountain on Lake Geneva, the Jet D'Eau to be illuminated in red as well as landmarks in the cities of Barcelona, Madrid, Murcia, Santander, Toledo and Valladolid in Spain, and Niagara Falls in Canada.
What we are doing in Geneva:
The Stop TB Partnership, in collaboration with the Graduate Institute's Global Health Centre is organizing the Swiss premier of the new feature-length film, 'Lucky Specials' which combines the best of fiction and non-fiction storytelling to demystify TB, explaining how it spreads and how it can be treated. Though dynamic characters and a captivating storyline, the film replaces misconceptions about TB with facts and shows the journey of TB bacteria inside the body through state-of-the-art animation. By making the film personal, practical and memorable, audiences will retain critical health information in a context that reflects southern African life and values. The film will screen on Friday, 24 March at 18:30 hrs at the Global Health Centre's Auditorium Ivan Pictet B in Geneva. Entrance to the film screening is free but the Partnership welcomes donations at the door which will go towards the 2017 World TB Day Prize.
During the week of World TB Day, a series of posters will run on the screens in trams and on billboards at the Geneva Cornavin train station.
Let's make this World TB Day a big success!
http://www.stoptb.org/events/world_tb_day/2017/
http://www.stoptb.org/events/world_tb_day/2017/materials.asp
http://www.stoptb.org/events/world_tb_day/2017/redarrow.asp