Recap of the activities dedicated to World AIDS Day 2017.
Italian Red Cross and Villa Maraini
30/11/2017 Villa Maraini and Rome Red Cross Commitiee, organized a Conference on "HIV: humanitarian strategies for risk reduction and access to care"
1/12/2017 Meet Test & Treat Campaign: from 10:30 a.m. to 1:00 p.m. at Tor Bella Monaca (Rome)  at Termini Railway Station (Rome) at Rome Gay Street (Rome) Results: 447 tests done on HIV and HCV
Also on key population and hard to reach people and interviews on Italian TV an newspaper
Hungarian Red Cross
The Hungarian Red Cross Youth has been organising the national HIV/AIDS prevention competition and World AIDS Day for the 15th time. The final round of the competition was being held in the capital of the country (Budapest) in the Corvin Plaza, providing a great opportunity to reach out to as many people as possible.
The competition itself is was organised in two categories, one for high school students and one for young adults. All together there were 16 teams competing in the final round. During the competition the teams had to solve puzzles and answer question about the HIV/AIDS and other STDs as well as present the proper usage of a condom. The teams prepared posters about the discrimination that HIV positive people have to endure once they are diagnosed being infected. They were wearing their handmade and designed T-shirts fitting the topic.
Simultaneously to the competition the WAD was being held in co-operation with the Civil AIDS Forum, the Budapest Medical Students Organisation and the Company For Human Rights. Each NGO had their own stands helping people to get to know the topic better and to reduce the misbelieves about HIV. They also discussed about the rights of a person that is being diagnosed with HIV, explaining the legal steps that are necessary to take and many other human rights related topics. The Civil AIDS Forum provided the chance for taking anonym tests for HIV. By the end of the event a total number of 99 people got tested. During the whole day approximately 40 volunteers were working actively from the Red Cross.
Latvian Red Cross
Since 1 December is declared as the World AIDS day, many Red Cross and Red Crescent national societies around the World are organising activities to raise awareness of HIV/AIDS — what impact it has on people's lives, how to prevent the virus transmission and where to get support. 
During one week, the Latvian Red Cross organised several activities in different cities, some of them are described below.
On 29 November, Latvian Red Cross Youth hosted an event "Knowledge enhances understanding" (Zināšanas vairo sapratni) in Riga, which included watching a movie and afterwards having a discussion with a HIV prevention specialist; during the event condoms and informative materials were distributed to all participants.

On 1 December, Latvian Red Cross launched informative social network campaign inviting everyone to wear a red ribbon on their clothes, to take a photo of themselves and to post it on facebook.com (and other social network) timeline by adding this message: "Today I am wearing a red ribbon. Why? Because I am aware, I am responsible for health of my friends and I invite YOU to do the same! Pin the red ribbon to your clothing today, on 1 December, on the World AIDS day! #WorldAIDSday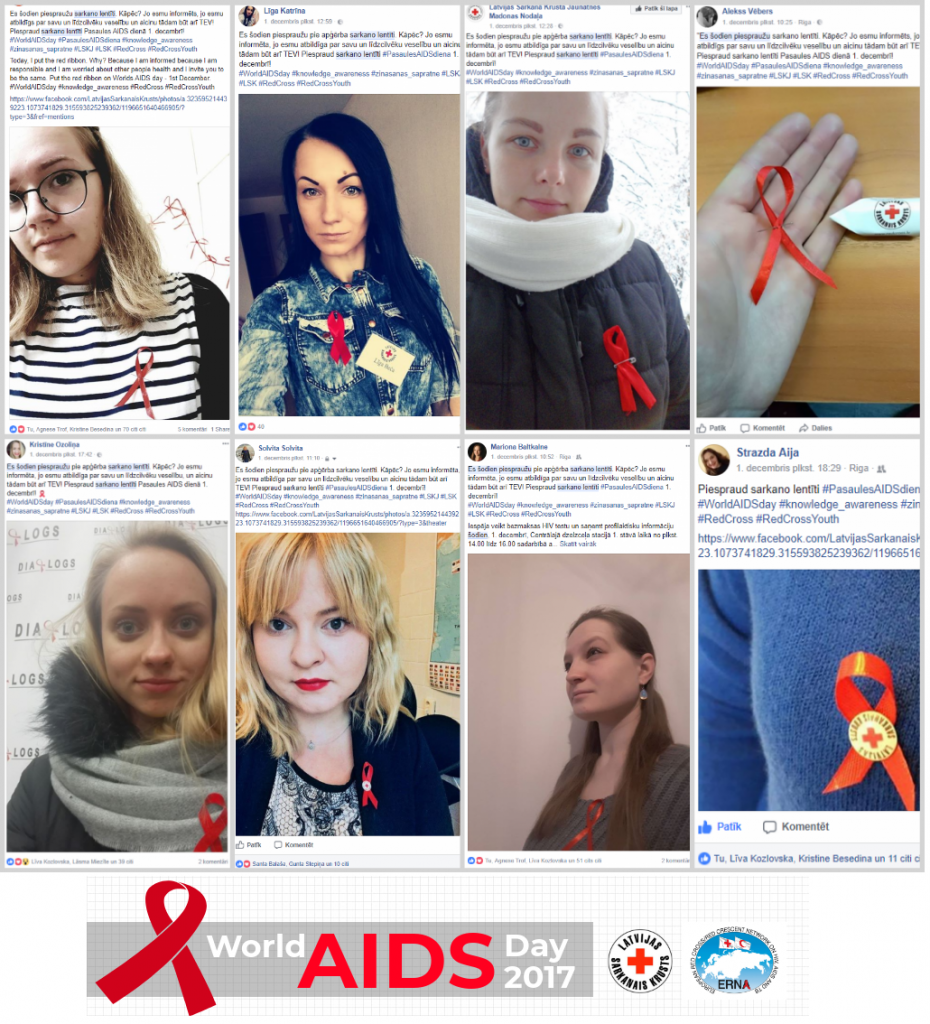 On 1 December, Latvian Red Cross Youth of Daugavpils city branch participated at the event "Rock Marathon against AIDS". During the event LatRC youngsters distributed condoms and informative materials about HIV/AIDS, its impact on person's life, risks etc. to around 200 participants of the event.

On 1 December, Latvian Red Cross Youth of Daugavpils city branch visited Daugavpils Secondary school's 60 students of the 9th grade. During the visit, they organized a knowledge competition in three parts: theoretical knowledge, case analysis, practical exercises. The main topics were spreading of the AIDS/HIV viruses and where to get help in case of being infected.

On 1 December a non-governmental organization AGIHAS (support group for those affected by HIV and AIDS) organised a charity concert in Riga in regard to the World AIDS day, where Latvian Red Cross volunteers and youth members assisted the organisers of the concert.
Montenegro Red Cross
Information sessions, distribution of educational material and condoms – leaflets were distributed on December 1st in all Red Cross local branches and in Podgorica (in shopping malls and café bars).