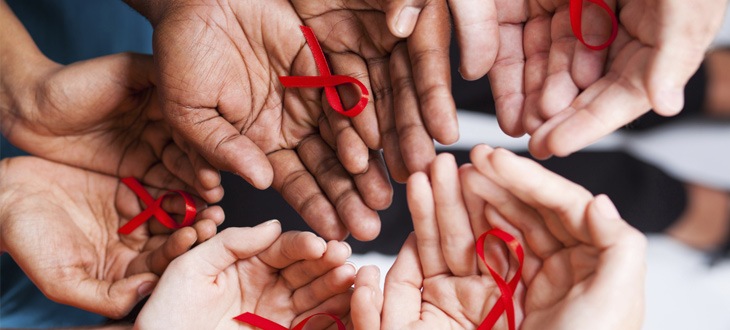 More than 30 years on from the start of the HIV and AIDS epidemic in the UK, the reality of living with HIV is unrecognisable. While stigma and discrimination unfortunately still remain, the availability of effective HIV treatment means that an HIV diagnosis is now no longer the fatal health condition that took the lives of many – far too many – individuals in the prime of their lives. We are seeing the first wave of individuals who have been on antiretroviral therapy (ART) for a substantial period of time and who are ageing with HIV. We are also seeing a new phenomenon as more people than ever before are diagnosed with HIV aged 50 or over. The result is that the proportion of people living with HIV who are aged 50+ will continue to rise. This is uncharted territory. While there are many unanswered questions about the interplay between HIV and ageing, an ever increasing volume of academic and clinical research is starting to determine the physical, mental and social impact of growing older with HIV. In 2010, Terrence Higgins Trust, Age UK and The Joseph Rowntree Foundation released a groundbreaking piece of research, A National Study of Ageing and HIV (50 Plus), that explored the needs and experiences of over 400 people living with HIV aged 50 and over. Much has changed since then and this research aims to update the evidence based on the findings of 2010. This will provide the call to action needed for the HIV community and other advocates to push for change to ensure the needs of people ageing with HIV are fully met.
307 people living with HIV aged 50+ participated in this research.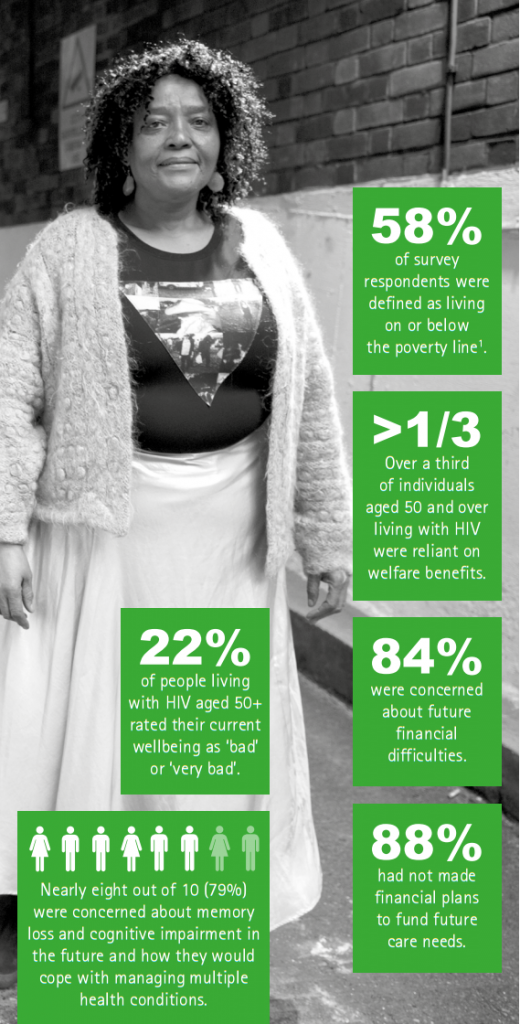 The impact of the availability of HIV treatment
Unsurprisingly, our study has highlighted that there is a difference in needs and experience depending on whether an individual was diagnosed with HIV before or after the availability of effective antiretrovirals (ARVs) in the UK in 1996. Individuals diagnosed before 1996 were more likely to be dependent on benefits as their sole or main source of income. They were less likely to be in employment (full- or part-time). Individuals diagnosed before treatment was available were more likely to have three or more additional health conditions.
Social care is not currently meeting the needs of people living with HIV
People growing older with HIV face the prospect of managing multiple long-term conditions that are made more complex by their interactions with HIV. Of people living with HIV aged 50 and over, 81% were concerned about how they would take care of themselves and manage daily tasks in the future. A quarter said they would have no one to help them if they ever needed support with daily tasks. Altogether, 82% of over 50s living with HIV were concerned about whether they would be able to access adequate social care in the future and 88% had not made financial plans to fund future care needs. Even when people living with HIV have been able to access social care services they have faced discrimination from social care professionals due to their HIV status, including in residential care homes. This is unacceptable. People living with HIV in care homes should not be treated differently from their peers. Instead, these actions are fuelling myths and stigma around HIV and further isolating older residents living with HIV in residential care.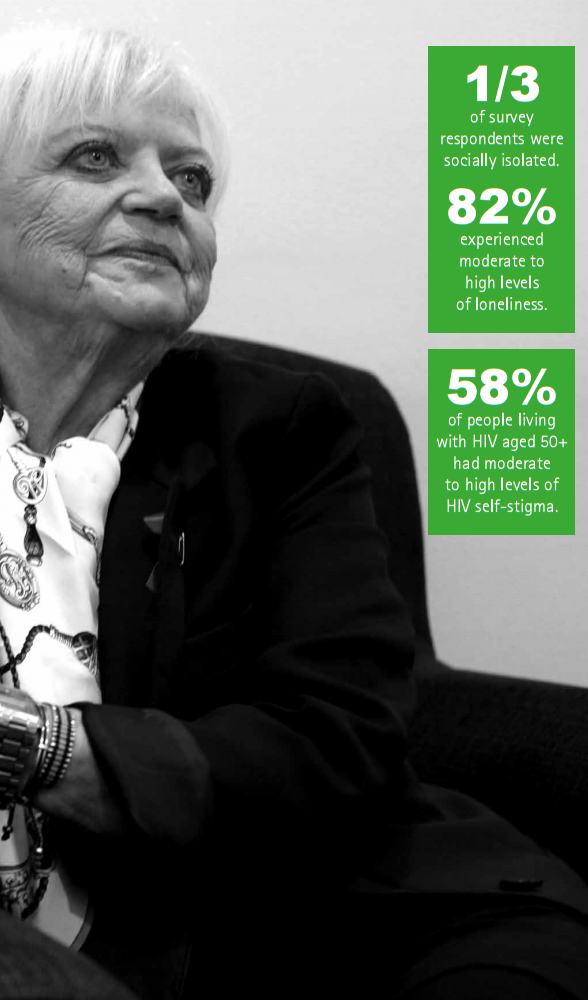 Many people living with HIV aged 50 and over face social isolation and loneliness
A third of survey respondents were socially isolated and 82% experienced moderate to high levels of loneliness. People living with HIV aged 50 and over were at least three times more likely to experience high levels of loneliness than the general population. Wellbeing decreased with increased social isolation. The situation has deteriorated since the 2010 Terrence Higgins Trust 50+ research when 61% of people living with HIV aged 50+ were concerned about loneliness in the future — that figure is now 76%.
People living with HIV aged 50 and over experience HIV self-stigma
58% of people living with HIV aged 50+ had moderate to high levels of HIV self-stigma. HIV self-stigma decreases with increasing age. It is less common in gay men living with HIV than in heterosexuals living with HIV. There was an observed trend of increasing self-stigma with decreasing financial income. HIV self-stigma also increased with increasing social isolation and loneliness. Research participants expressed difficulties in telling family and friends about living with HIV. This was particularly acute in those diagnosed more recently. The lack of any recent national HIV campaign aimed at the general population, and the perpetuation of HIV myths and stigmatising language in the media, has led to a lack of up-to-date knowledge and understanding of HIV.