Villa Maraini, Italian Red Cross National Agency for drug addiction and the training center of the Red Cross and Red Crescent Partnership on Substance Abuse, joins the International Awareness Overdose Day on 31st of August promoted by the Penington Institute in Australia, celebrating the intuition of Massimo Barra dated May 1980, when he launched for the first time in the world the idea of making first aid interventions with Naloxone (opioid antagonist drug) by non-medical personnel.

The idea was discussed in Klingenthal-Strasbourg in France, at the first international meeting of the Red Cross Expert Group on Drug Addiction:
"On that occasion, I proposed to use Naloxone in the emergency services managed by the Red Cross and Red Crescent, both by health professionals and volunteers (non-medical staff), to increase the chance of saving lives in case of overdose", explains Massimo Barra, Founder of Villa Maraini.
This brought to the first recommendation of the Red Cross and Red Crescent Movement on how to deal with the growing phenomenon of drug abuse and related overdoses worldwide, as stated in the original extract of the typewritten report.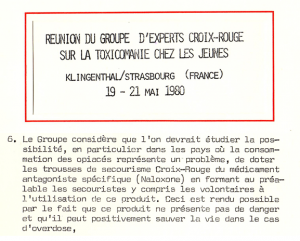 "We are proud to have been the first in the world to propose a concrete solution that nowadays is becoming a practice, especially in countries most affected by mass consumption of new synthetic drugs such as Fentanyl in the United States – explains Massimo Barra – Naloxone is perhaps the only molecule of the pharmacopoeia without contraindications, it was worth already at that time to equip ambulances and emergency units with this life-saving drug".
Despite the lack of side effects of Naloxone (sold in pharmacies without a prescription), the real obstacle has always been the way of administration through intramuscular or intravenous injection, which requires the presence of medical staff. This legal constraint has significantly slowed down the possibility of expansion and use of this good practice even by Red Cross/Red Crescent volunteers and first aid providers.
"We couldn't remain helpless, we felt the need to intervene, so in the 90's we started to make overdose interventions on the street with non-medical staff, mainly former drug addicts, appealing to the state of need that has allowed us to save over 3 thousand lives that without our intervention would not have arrived alive in the hospital", concludes Barra.